Current Issue
Vol. 31 No. 4 (2023): International Journal of Engineering Intelligent Systems
View All Issues
Aims & Scope
Whilst considerable progress has been made in the development of concepts for intelligent systems, the engineering and implementation of complex,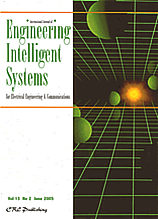 sizeable intelligent systems still remains a challenging area. This is reflected in the extremely high research activity but as yet much fewer actual applications in the field.
The potential for application of this technology is very great, allowing one to develop computer solutions to problems that were not previously amenable to this. This accounts for the very high interest in this technology in commerce, utilities and manufacturers. Intelligent systems include: expert systems, neural networks, fuzzy systems, data mining and natural language systems. The area of research and development activity that characterizes the specification, design and construction of such systems is known as the 'Engineering of Intelligent Systems'.
A number of issues related to the development of these systems for the different application areas are common. This commonality in experience across these fields will be drawn out in papers in the journal.The journal therefore addresses the field of 'Engineering of Intelligent Systems'. Application areas include banking and finance, electric utilities, telecommunications etc. The journal covers the intense research activity that is being carried out in the field, together with the substantial work carried out in industry, and is international in scope and readership.
Subscription Information
Enquiries regarding subscriptions and orders both in the U.K. and overseas should be directed to:
Mr. Jeremy Thompson
Journals Fulfilment Department (IJEIS)
CRL Publishing Ltd.
5 Weir Road
Kibworth Beauchamp
Leicester LE8 0LQ
United Kingdom
tel. +44 (0) 116 279 2299
fax. +44 (0) 116 279 2277
email.
eis@crlpublishing.co.uk